Wing-in-ground effect craft: tomorrow's must-have superyacht accessory?
Is it a boat or a plane or both? The Airfish 8 wing-in-ground effect craft could arrive at a superyacht near you before long.
Wing-in-ground-effect craft, cruising at 7m above the waves, could offer safe, speedy and cost-effective transport to and from superyachts; rivalling the use of helicopters and tenders, according to Wigetworks Private Ltd; the maker of the 10-seat Airfish 8 model.
Part boat, part plane and powered by a car engine, the wing-in-ground-effect (WIG) craft can cruise at 80 knots, propelled by twin airscrews, putting the fastest superyacht tender to shame. Said to be safer, simpler and more cost-effective to operate than a helicopter, the Airfish 8 is constructed from a carbon fibre reinforced-plastic/sandwich composite.
A spokesman for Wigetworks told Superyacht Investor the Airfish 8 was well-suited for use with superyachts – although none had been sold to owners yet. "It can be used as a tender, operating at a much higher speed than the traditional Boston whaler type tender, and infinitely more comfortable once airborne."
Compared with helicopters, WIG craft, which ride on a cushion of air, are said to offer specific advantages. "The additional safety margin is the biggest advantage," said the spokesman. "When the engine, or any other hardware, fails, the Airfish can land immediately on an infinitely long and wide and flat runway just 1-2m below. In fact, our emergency landing in the event of an engine failure is really not much difference from that of a scheduled landing."
'In the event of engine failure'
While low operating costs may not be the top concern of superyacht owners, the aircraft is claimed to be much more economical to operate than rotor craft. "The maintenance and operation of the Airfish is much easier than helicopters, since the car engine requires only attention of car mechanics, and the carbon composite structure is largely corrosion free."
An additional benefit for diving enthusiasts is that the low cruising altitude enables flights even after deep dives.
While the price of the craft has yet to be finalised, the company expects it to cost from $3m to $4m – depending on the volume, degree of customisation and cost of certification.
Widgetworks told this website that since there is no formal WIG captain qualification at present, the company is working to develop one. As Airfish is "not quite three-dimensional like an aircraft", an experienced marine captain would be capable of operating one after 10-20 hours of hands-on training, it said.
But the UK's Civil Aviation Authority (CAA) insisted that, when operated within UK territorial waters, WIG craft would be classed as seaplanes, which must comply with registration and certification rules both for aircraft and for pilot.
"Ground-effect vehicles would indeed be classified as aircraft by us, as they meet the definition of an aircraft, using its wings generate aerodynamic lift," a CAA spokesman told Superyacht Investor.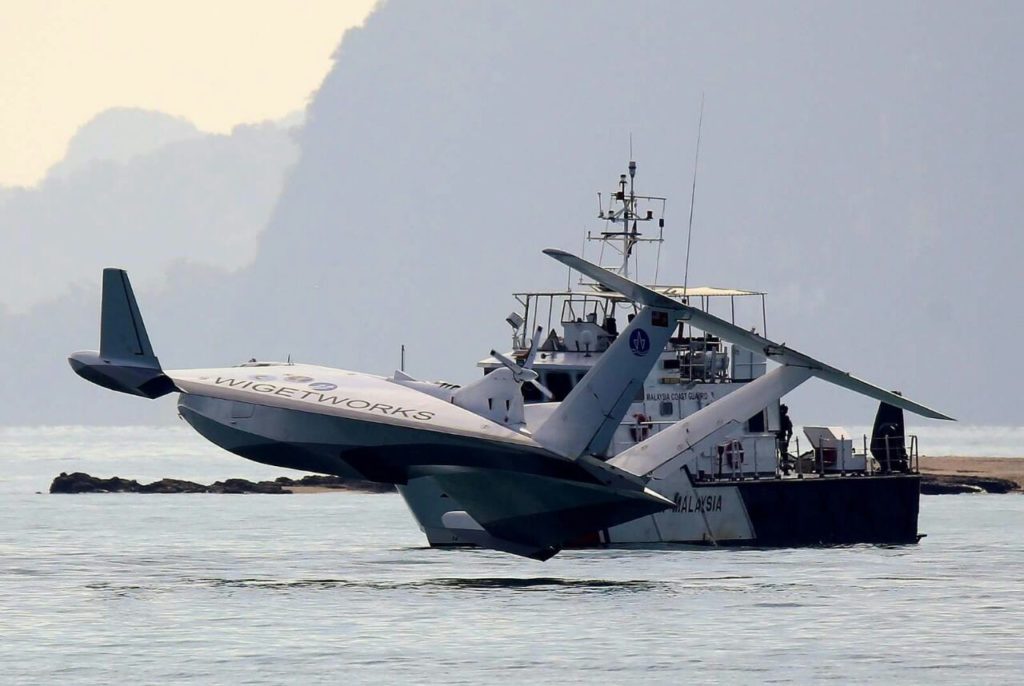 'Would be classified as an aircraft by us'
"We would classify a ground-effect vehicle as a seaplane and it would be expected to meet exactly the same design and airworthiness standards as other seaplanes. The pilot would also need to be appropriately licenced and hold a Seaplane Rating."
As such, the craft may operate only under Visual Flight Rules – which specify a minimum visibility of 5km. Pilots will be required to hold a class rating for seaplanes rather than a type rating and to hold a Commercial Pilot's Licence if flying for hire or reward. So far, the CAA has yet to be asked to be asked to certify a WIG design.
An Airfish 8 hit the headlines recently when The Times reported one was being used to ferry passengers from mainland Italy to the islands of Ponza and Ventotene, off the coast of Naples.
Giuseppe Schiboni, the mayor of San Felice Circeo, told the publication: "Our problem is slow ferries, which can take 80 minutes to get from Ponza to San Felice Circeo on the mainland, while the AirFish could do it in 12."
Meanwhile, the early development of WIG craft took place in the former Soviet Union, where they are known as the ekranoplans, for both civil and military applications. The development led to the launch of 37.6m-wingspan Caspian Sea Monster, which weighed 544t.
Airfish 8 – at a glance
Certification: Lloyd's Register, 100A1 WIG
Overall length: 17.2m
Overall height: 3.5m
Cabin Length: 4.0m
Cabin width: 1.4m
Wingspan: 15.0m
Draught, waterborne: 0.55m (maximum)
Payload: 1,000 kg
Baggage capacity: 160kg
Seating Capacity: two crew and six to eight passengers
Engine: V8, 500 HP
Consumption: 70 litres/hour
Operating height: up to 7m
Maximum speed: 106 knots
Cruising speed: 80 knots
Take off distance: 500m
Landing distance: 300 to 500m
Range: 300 nautical miles.